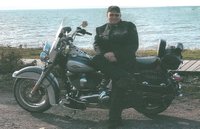 Raymond Charles Harold Harper
Harper: Raymond "Ray" Harper made his final and wildly inappropriate and probably sarcastic comment on Saturday, October 14, 2017 at the age of 60. Born in Chatham, son of the late Ray and Iline (Rogers) Harper. Ray is survived by his wife Patti (Broad) Harper; devoted sons Ray & Stephanie Harper of Chatham, Jeremy Harper of Calgary, and Darryll Harper of Chatham. Step-father of Celeste (Jordan) McMurphy, and Ashley Neidrauer. Loving grandfather to Tyler, Emily, Jayden, Emma and Parker, and sister Nancy (Joe Ball); nieces and nephews Chris, Brian, Joey and Jen.
Ray was world-renowned for his lack of patience, not holding back his opinion, and a knack for telling it like it is. He always told you the truth even if it wasn't what you wanted to hear. However, he was genuine to a fault, a pussy cat at heart and yet he sugar coated nothing. His extensive vocabulary was more than highly proficient at knowing more curse words than most people learned in a lifetime.
Ray liked four letter words almost as much as he loved his Harley Davidson motorcycle, hunting, and conversations with his family and friends. He never missed an opportunity to help someone in need or jump on to an exciting adventure.
At Ray's request there will be no visitation or funeral service. Cremation has taken place. Please note his change of address to his new residence Blackburn Cemetery, Dresden.
Happy Trails!
Please give generously to the Chatham-Kent Animal Rescue in memory.